If you missed the first installment of my Princess Half Marathon Recap click here.
Once we were settled in our room at Pop Century the hubs, SIL, and I decided it was time to check out the Fit For a Princess Expo. In the two years leading up to the 2014 races I've read countless runDisney recaps and knew that runDisney Expos are some of the best. I had a mental list of the booths I wanted to visit and the merchandise I wanted to buy. I knew that even though it was the first day of the Expo it was going to be pretty crowded and tried to prepare the hubs for what to expect. People, people, and more people!
One of the perks of staying on property during race weekend is having a fancy shuttle bus to take you to the expo and races. It was nice not having to figure out how to get to the ESPN Wide World of Sports complex and we didn't have to find parking!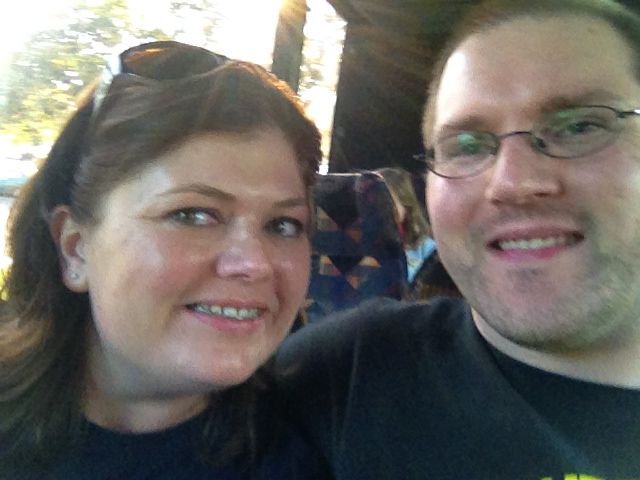 Expo bus selfie
We were dropped off at the WWoS and walked towards the two buildings holding the Expo and packet pick-up. It was about 5:00 in the evening and the crowd was thinning out. We stood in line for a few minutes so I could get my picture with the Glass Slipper Challenge board.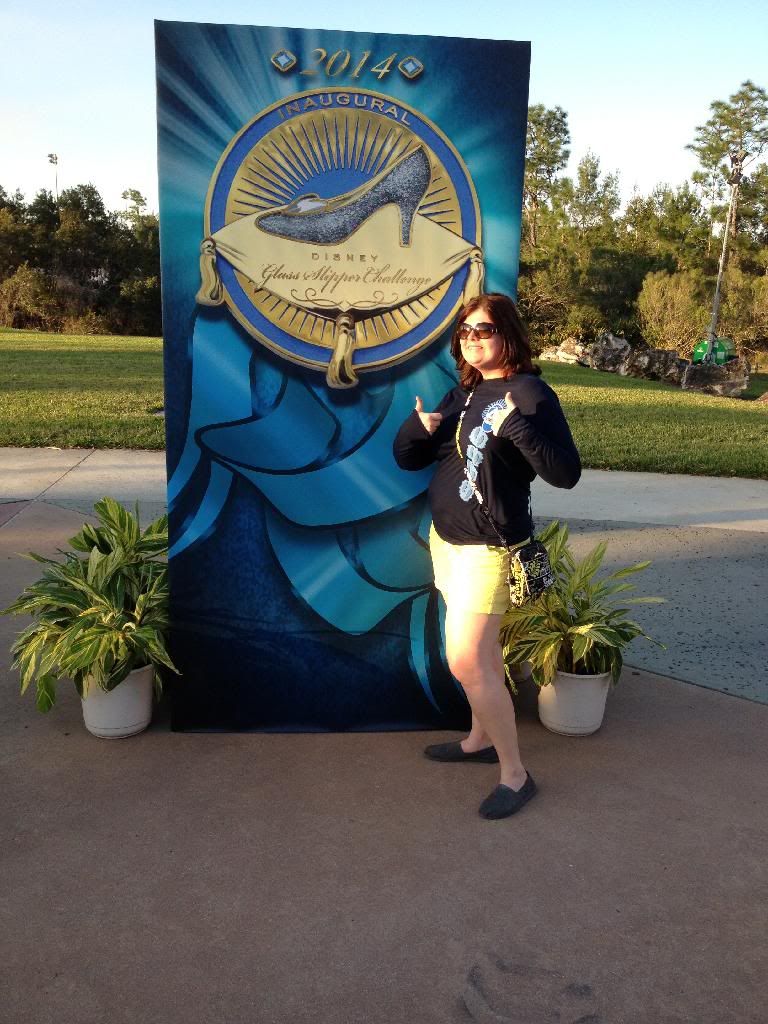 Glass Slipper Challenge
On the way out we stopped again so I could get pictures with the Enchanted 10K and Princess Half Marathon boards.
Princess Half Marathon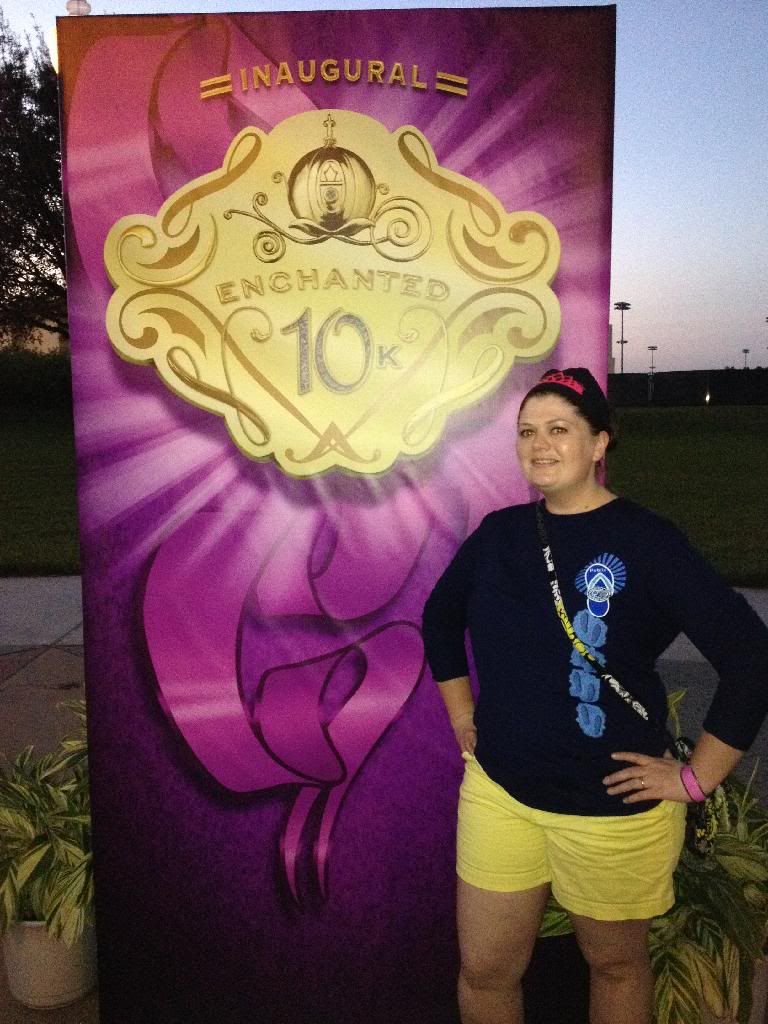 Enchanted 10K
Packet pick-up was a breeze. There was a separate area for GSC pick-ups and I walked right up to the booth. The volunteer was very helpful and explained that I'd be using the same bib for both races and that I was in corral D for the 10K and corral J for the half. Once I had my bib I walked to the next group of tables and picked up my clear bag holding my two race shirts and one challenge shirt. Back in June when I registered for the races I selected a size large shirt, not knowing exactly how they would fit. I have terrible luck when it comes to women's cuts since my boobs and stomach are a bit bigger than my waist. Luckily, I was able to swap out my size large shirts for XL and it was a much better fit. I have to admit sizing up kind of stung but you just never know how clothes are going to fit. I'd rather the shirts be a little big than too snug around my middle.
After I picked up my shirts I stopped for a few pictures with my bib.
Snow White was meeting here at certain times during the weekend.




The countdown is on!
Now it was time to get down to business... shopping, but not before stopping for a picture with the coachmen.
They were the first ones to call me Princess.


We entered the Expo and were greeted with this amazing and overwhelming sight.
So many vendors, so little time and money!


The hubs immediately went into strategy mode and asked which vendors were must see. He found them on the map and we headed into the crowd. I had decided a week or two before the races that I wasn't going to spring for either the Cinderella New Balances or the PHM Dooney purse I had been lusting after. They were both a lot of money that could be used buying other race swag. I was a little sad that I didn't get the NB shoes after seeing them in person but I'm over it now.
We made our way to the BondiBand booth. I had a mission to find a headband for each race and was able to complete the mission. They were running a special of three bands for $20 so I picked up a black band with a pink tiara for the 10K, a special Little Mermaid band for the half, and a special 19.3 band for completing the Glass Slipper Challenge.
Once finished at the BondiBand booth we headed to the official merchandise booth. I knew I wanted an "I Did It" shirt for the GSC and a 19.3 magnet for my car. I was able to find both of those plus a very cute Princess Half Marathon Weekend shirt that had all three medals on the back. If you've seen my Facebook or Instagram updates you know that the PHM shirt didn't hold up very well in the wash. I'm still waiting to hear back from Disney. I hope they replace the shirt because I really liked it. I was able to get 2 shirts and the magnet for not very much thanks to the annual passholder discount and gift card from my MIL.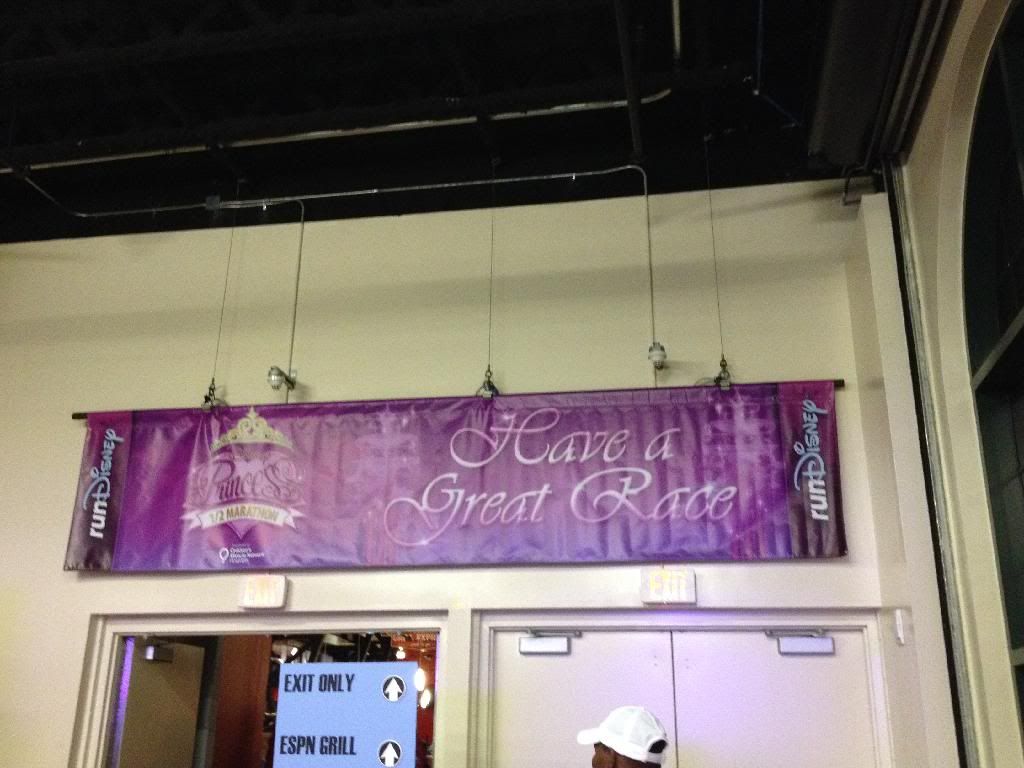 Here's my Expo swag!
Race shirts, expo shirts, bib, GSC pin
BondiBands, I Did It Shirt, Princess Half Marathon Weekend shirt, magnet, and art card








The Fit For a Princess Expo met my expectations and I had a great time looking at the different booths. I wish I had been able to stay around for some of the speakers like Jeff Galloway but we had dinner reservations to make.
What's the best race expo you've been to?
Did you get some cool sway at the PHM expo?